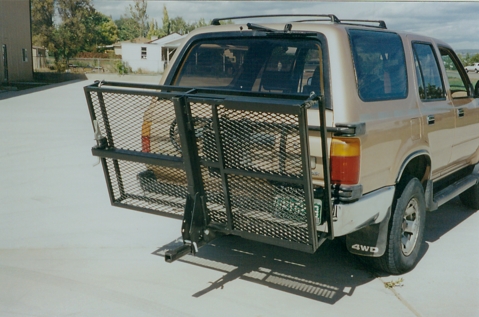 The Tilt-a-Rack Transporter model 350RV & 500RV - This innovative new lift allows for your total mobility in transporting almost any scooter or power chair. The simple yet unique design requires no batteries, motors or actuators. Simply release the latch to tilt the lift, pull out the deck extender from beneath the lift to reduce the angle of incline, as you load your scooter or power chair. As the weight of the scooter moves forward on the lift, the lift tilts to level and locks into place. Simply attach the safety harness and you are on your way in a flash! This lift will work with a class two or class three hitch and can be easily installed by your local trailer hitch installer. The lift comes complete with everything you need for installation and operation, and carries a full one-year warranty. This lift is available in two different sizes to insure compatibility with most any scooter or power wheelchair and almost any car, truck, van, or SUV.
Model
Platform Size
Weight of Lift
Lifting Capacity
350RV
60" x 26" x 4"
90 lbs.
350 lbs.*
500RV
60" x 32" x 4"
100 lbs.
500 lbs.*
* Lifting capacity depends on the tongue weight of the hitch and the frame of the vehicle. Some smaller vehicles may require air shocks.

Options

Heavy duty scooter cover
$92.95
Step 1 : Tilt rack and extend deck.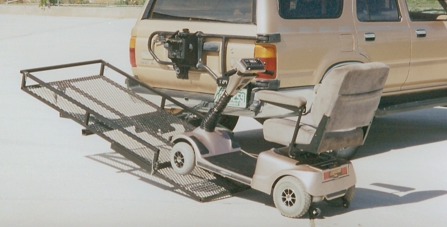 Step 2 : Drive scooter onto lift. The weight of the scooter will tilt the lift forward and lock it into position.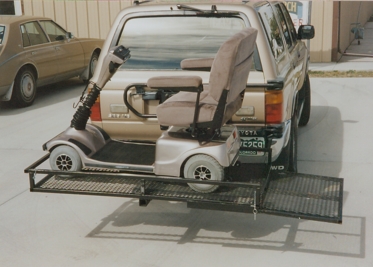 Step 3 : Attach included safety harness.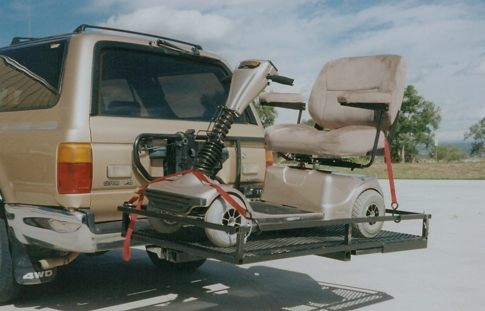 Step 4 : Your ready to ride!
Extending deck works great with parallel parking next to curbs when no handicap ramp is available.